Amy Dickinson, Licensed Acupuncturist
Amy Dickinson, L.Ac., grew up in Boulder. Following her graduation from The University of Colorado, she taught English in Japan and traveled extensively in Asia. She earned her Master's degree in Traditional Chinese Medicine from the prestigious Five Branches College and Clinic in Santa Cruz, CA. During her four year course of study, she was an Advanced Intern at the Zhejiang Hospital of Traditional Chinese Medicine in Hangzhou, China. She was able to study Gynecology, Cardiology, Internal Medicine, and Gastroenterology under some of the most respected Doctors of Chinese Medicine in the world. She passed the California Acupuncture Licensing Exam, considered by many to be the highest credential in the Western Hemisphere. Her education strongly emphasized the use of Herbs and the integration of both Chinese and Western Medicine.

Shortly after opening her practice in 2003, she pioneered a program to provide free acupuncture services to Boulder's homeless and working poor at the Carriage House (now Bridge House). Several years later, she converted the program into an Externship for Southwest Acupuncture College students (SWAC), and the program continues today.

Currently she is excited to have created a unique opportunity for both the student athletes of the local university and the sports medicine specialist students at SWAC. This program allows the acupuncture students, under Amy's supervision, the opportunity to work on athletes of a caliber most acupuncturists only dream of working on. This program comes at no cost to the University and allows all student- athletes access to this very effective therapy on campus.

Amy Dickinson, BA, L.Ac., MTCM, is an Associate Professor at Southwest Acupuncture College, and lectures nationally on Acupuncture Treatment of Orthopedic disorders. She is past Vice-President of the Acupuncture Association of Colorado.

Dr. Kevin Meyer, Doctor of Chiropractic, Owner
Dr. Meyer grew up in Nebraska and played football, baseball, basketball, track and golf. Dr. Meyer graduated from Concordia University in Seward, NE with a Bachelors in Science with a focus on cellular and molecular biology. He then graduated from Palmer College of Chiropractic West in San Jose, CA in 2009. Dr. Meyer was an active member of the Sports Council and worked events as an intern including the Great Ski Race (Truckee,CA), San Francisco U.S. Half Marathon, Northface Endurance Challenge (Marin County, CA), Bair Island Regatta (Burlingame, CA), and the Sea Otter Classic (Monterey, CA). Dr. Meyer has helped out at events such as the Leadville 100 Mountain Bike Race with University of Colorado Med. School. He was a past member of the Chamber of Commerce. He was also a team chiropractor for the Denver Roller Dolls.
Dr. Meyer became interested in chiropractic at the age of 13 after a basketball injury to his low back kept him off the court. He had visited a medical doctor first and was given anti-inflammatories and advised to rest with the expectation that he would be back on the court playing basketball in a short period of time. After a week, he was still in pain with no improvement, at which point he visited a chiropractor for the first time. Dr. Meyer had no idea what to expect and was examined and a treatment applied. After that first treatment, his low back pain was gone! Dr. Meyer's Chiropractic philosophy is: "Have a positive impact on everyone's life by empowering them to optimal health.
Dr. Meyer believes that he can help every person in some way whether it be from an adjustment, nutritional advice, exercise advice, lifestyle change advice, or muscle work. Dr. Meyer treats all kinds of patients from avid weekend warriors to Olympic athletes. He wants all of his patients to reach their goals and will do everything he can to help empower them, no matter how big or small their goals might seem.
Dr. Meyer is an avid runner and loves the trails and mountains in and around Boulder. He enjoys running ultra-marathons and well as races of shorter distances. He understands how important keeping the spine and neuromuscular system tuned-up helps with training and competing.

Dr. Laura Graber, DC



Dr. Laura Graber grew up in Longmont, CO. She moved to Minnesota to attend St. Olaf Colege where she graduated with a degree in biology and a concentration in biomedical studies. She continued her education at Northwestern Health Sciences University in Bloomington, MN where she earned her doctorate of chiropractic. She has practiced in Minnesota for the last four year where she was able to treat a variety of issues on college athletes, pediatrics, prenatal and auto accident patients.

Dr. Graber first experienced chiropractic while dealing with injuries while running track in college. Chiropractic care continues to help her stay active and she enjoys helping others feel their best while pursuing the activities they love. Her interests are in athletic injuries, women's health, pediatrics, nutrition and soft tissue injuries. Additionally, Dr. Graber is an avid runner and climber and is knowledgeable and experienced in treating climbing specific injuries.

Dr. Graber's practice philosophy is that that each patient is unique in their treatment. In addition to chiropractic adjustments, she often includes muscle work, stretching and strengthening exercises as well as nutritional recommendations. She has found that this holistic approach to care not only gets people out of pain, but provides lasting results.

In her free time, she enjoys rock climbing, running, hiking, camping and cross country skiing as well as spending time with her family and friends.


Anne Devereux, Licensed Acupuncturist
Anne received her Bachelor of Arts in Sociology and Women's Studies from the University of Colorado at Boulder. She completed her graduate studies at Southwest Acupuncture College, earning a Master of Science in Oriental Medicine degree. She is board certified through the National Certification Commission for Acupuncture and Oriental Medicine. She has received advanced training in a number of specialties including sports medicine, OB-GYN/ women's health, Chinese herbal prescribing, NADA protocol for addiction, and facial rejuvination.
With 10 years of experience in the health care field, Anne has a background in reproductive health and women's health issues. However, she also enjoys working with athletes, families, and baby boomers. Her treatments include specialized techniques such as cupping, gwasha, plum blossom needling, electrical stimulation, auriculotherapy, myofascial trigger point therapy, Kototama (Japanese) style acupuncture and moxibustion, Shiatsu &Tui Na styles of bodywork, and pediatric shonishin acupuncture. Anne is in-network with Anthem BCBS and Cigna insurance companies.

Ryu Koyama, Rolfer™
Ryu Koyama is a Rolfer™ certified by the Rolf Institute® of Structural Integration in Boulder, CO. He uses a deep, listening presence cultivated from his own awareness practices to help people heal pain and discomfort that may have been present for years.
Ryu is also a personal development facilitator certified by the organization Authentic World. He facilitates regularly at the Integral Center in Boulder, and is on staff for many of their trainings and workshops.
"It has been a great joy of mine as a Certified Rolfer to help people not only move beyond their pains and discomforts, but also access an inner strength, ease, and resilience in their body as they move through their life.
People who go on the journey that Rolfing® sessions provide discover that their body is okay. That their body is theirs. That their body can be a great friend and resource in their life. - You don't need to fight with it, struggle with it, or be ashamed about it.
All of my work is informed by my deep love and understanding of our experience as human beings, and the stories we carry with us in our psychology as well as our physiology."
---
MASSAGE THERAPISTS


Tamara Elzey, LMT
Tamara's first experience with giving massage started around age 10, when she continually got placed behind the driver on family road trips for neck massages. After an accident that resulted in torn quadriceps and ligament damage Tamara used Massage Therapy in her healing process. During her recovery, these massage sessions were her favorite part of the day and they inspired her to help people through massage. In 2011 she moved to Boulder to attend the Boulder College of Massage Therapy. There she studied modalities such as; Zen Shiatsu, Swedish, Myofascial Release, Neuromuscular Therapy, Orthopedic Massage, and Pre-Post Natal Massage.

Tamara believes in integrating several different techniques such as various depths, pressure, trigger points and continuous movement so that as the client, you receive the best possible treatment. She highly values feedback from you, while on the table. Often using the phrase, "I can read your body but not your mind, so speak up if something doesn't feel right." She also believes in working as much of the body as possible since one muscle fiber is so intricately connected to every other muscle fiber in the body. Her theory behind this particular belief is that you start and finish the whole puzzle rather than just the boarder.



Courtney Smith, LMT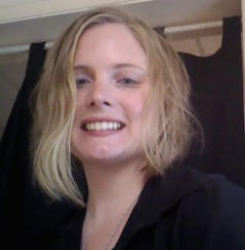 Courtney Smith graduated from the Boulder College of Massage Therapy in 2005. Outside of medical and spa settings, Courtney travels to bring the healing touch of massage to athletic events, musicians, dancers and patrons of music festivals. Courtney describes her hands on work as "A blend of Deep tissue vibration, Acupressure, and Energy balancing." Some of her special focus is on craniosacral, prenatal/induction massage and raindrop therapy. In her spare time, Courtney enjoys doing Bikram yoga, horseback riding, snow-shoeing, bike riding, gardening and cooking.


David Harbin, LMT

David experienced an awakening on his path in the healing arts while on a 250 mile backpacking adventure. While on this trip, he experienced pain and discomfort in his legs from the hiking long days and by massaging his own sore leg musscles he discovered one of the many benefits of massage and was able to comfort his remainder of his hike pain free. He continued his journey with massage by attending the Boulder Massage Therapy Institute and learned a diverse range of modalities including deep tissue, sports massage, trigger point therapy, myofascial release, Swedish and other energy techniques. He likes to integrate these technique into a tailored routine for the overall benefit of his clients needs. He has a great love of nature and spends most of his free time hiking, biking, backpacking, taking seminars to learn more about the body and meditating.
Alicia Kittredge, LMT

Alicia completed over 1500 hours of massage instruction through the Boulder College of Massage Therapy (BCMT) in 2009-10, earning both a Certificate of Massage and an Associates of Occupational Studies Degree (AOS) in Massage Therapy. As part of the AOS program, she earned a certification in advanced techniques in Prenatal, Labor Supporting, and Postpartum Massage, took advanced courses in Medical and Orthopedic Massage, and was introduced to Cranial Sacral Therapy.


Using a nurturing holistic approach, Alicia integrates a blend of techniques into every massage session to meet individual needs and help clients to reduce stress and recover from daily aches and pains, acute or chronic conditions, long term holding patterns and injuries. Relaxing Swedish techniques, along with treatment based Deep Tissue work and Myofascial Release, provide the base for her intuitive style that has been described as both gentle and deeply therapeutic.

Before finding her way to massage therapy, Alicia earned her BA in Studio Art in upstate New York. She then painted murals in Hawaii before spending two years in the Peace Corps in Thailand. These days she can be found dancing, hiking and taking care of her two young children.

Meghan Brummond, LMT



Originally from Wyoming, Meghan attended college for a short while before deciding she needed a dramatic lifestyle change. Within a few weeks she dropped out of school, moved to Los Angeles and enrolled in LAVI's program for Massage Therapy. Prior to enrollment, Meghan had never received a massage, yet was floored to discover how dramatically massage improved both the lives of others, and that of her own. She has since become a strong proponent of holistic medicine, believing maintenance and prevention to be the most important aspects of health. She is an avid yogi, pilates enthusiast and encourages overall body balance through strengthening and healthy lifestyle choices. Massage has helped Meghan become acutely aware and intuitive of her own body and hopes to help others do the same. She encourages clients listen to what their body is telling them and holds the firm belief that the body has the ability to heal itself!

Meghan has over ten years of experience in both chiropractic and high-end spa settings. She specializes in therapeutic techniques and a wide range of modalities including Deep Tissue, Swedish, MyoFascial Release and Trigger Point Therapy. She is well versed in Prenatal massage and enjoys incorporating Sports and Reflexology into her sessions. Meghan continues her education, currently attending SNHU's online program and hopes to become a certified Pilates instructor in the near future.